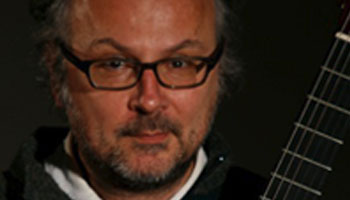 Michael Rodach
Michael Rodach (1957), guitarist and composer. He studied classical guitar with Prof. Dr. Mario Sicca at the "Hochschule für Musik in Karlsruhe", and Jazz at "Berklee College of Music" in Boston.
Composing for contemporary dance companys, such like "Pilobolus" und "Snappy Dance Company", writing music also for radio plays, and theatre pieces.As a guitarist he toured and played on a lot of studio- and live productions. He worked with: Teo Macero, Bob Moses, David Moss, Hans Peter Kuhn, Paolo Moura, Tiger Okoshi, Perry Robinson, Kevin Coyne, Georgette Dee…
He could be heard with the trio: Alan Bern (Accordeon) und Paul Brody (trumpet) at the Berliner Jazz-Fest (CD: Triophilia), and in Shakespeares: "The Winter's tale" at Berliner Ensemble, directed by Robert Wilson.