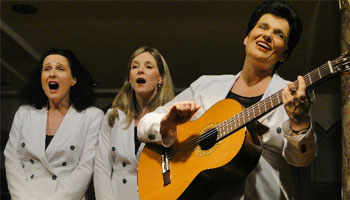 Honey Pie

Vocal-Entertainment vom Allerfeinsten.
Die drei Sängerinnen beherrschen nicht nur alle Facetten des Swing, sie glänzen auch mit temperamentvoller Choreografie und charmanter Conférence. Ein breitgefächertes Repertoire quer durch die Swinggeschichte von "Take The A Train" bis "Chattanooga Choo Choo", Filmhits wie "As Time Goes By", Ausflüge in Richtung Blues und Gospel und nicht zuletzt Chansons aus eigener Feder wie "Kleine Männer sind die Besten" oder die deutschen Adaptionen von "In The Mood" oder "My Way" sorgen für beste Unterhaltung.
Drei großartige Stimmen, jede für sich auch solistisch ein Genuss, ergänzen sich zu einem harmonischen Gefüge und die Entertainerinnen verstehen es, mit Witz, Charme und enorm viel Talent das Publikum um den Finger zu wickeln. Nostalgie mit Augenzwinkern, Show und Kurzweil, Gesang auf allerhöchstem Niveau – das ist Honey Pie!
Bis 2001 war Honey Pie eine der erfolgreichsten Vokalformationen im Süddeutschen Raum. Die Sängerinnen trennten sich damals aus Gründen der individuellen Lebensplanung. Nun sind sie wieder da mit neuer Sopranistin und frischer Energie.