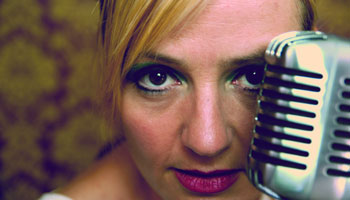 Sandie Wollasch
At the age of 3 Sandie already sings English pop songs. First stage appearance with 13 in her father's band. First studio experiences and further stage appearances follow. Abitur 1991, from then on continuously active in the music business.
With the soul formation "Six was nine" she successfully completed two big tours in 1995 and 1996, among others as support for Tina Turner's European tour. She worked with the Ulm hip jazz duo "Tab Two" (bass legend Hellmut Hattler and trumpeter Joo Kraus) for 2 years. Then Hellmut Hattler's solo project "Hattler" is created with the participation of Sandie. Sandie played a not insignificant part in the success of Hattler's album "No eats yes" ("Echo" 2011 in the category "Jazz"). For 6 years she could be heard and seen with "Hattler" on CDs and stages.
With "Groove Incorporation" Sandie has been celebrating great success in the local music clubs and at many festivities since 1997. Independent of this, Sandie makes a name for herself as a sought-after studio singer. Together with guitarist Joerg Dudys she writes and produces all songs of her CD "No Mystery", which will be released in 2002.
In 2003 the Swiss jazz musician George Gruntz engaged her to participate in his jazz opera "Magic of a Flute". World premiere at the Yehudi-Menuhin-Festival in Gstaad with, among others, the
NDR Big Band, Lauren Newton, Marc Murphy, Danny Gottlieb and many more.
2004 and 2005 with George Gruntz and the Concert Jazz Band from New York and special guest Nils Landgren tour through Austria, Switzerland and Germany. Since 2004 Sandie is a member of the vocal formation "4yourSoul" around singer and producer Edo Zanki.
In 2005 she founded Studnitzky "TRIBAND" together with drummer Tommy Baldu and trumpeter and keyboarder Sebastian "Stud". The first CD "No sleep" is released in September 2005.
2006, 2007, 2008 and 2009 appearances with TRIBAND in Germany, Russia, Latvia, UAE and Portugal at jazz festivals, at the Jazzopen in Stuttgart and in popular jazz clubs. CD "Trip" will be released in April 2007. In 2007 TRIBAND receives the renowned music award of the Verband der Deutschen Konzertdirektionen (VDKD). In January 2009 release of the third triband album "So together". In the same year successful tour together with the American jazz bassist and Grammy winner Esperanza Spalding as part of the series "Jazztoday". The triband live album "Where did all the love go", recorded in 2011 at Schloss Elmau, is the last triband album.
In 2010 Sandie produces together with Pit Baumgartner (De-Phazz) an album called "Quicksand" with the title "Economic Poetry". On the De-Phazz albums "la.la" and "audio elastique" Sandie is represented with one song each.
On the CD produced in 2012 with the SWR BigBand and various artists from the state on the occasion of Baden-Württemberg's 60th anniversary, Sandie is one of the "best from the southwest". She will then be on tour as a soloist with the SWR BigBand (including Paul Carrack and Götz Alsmann). 2013
she releases her second solo album "Believer". With different artists like Matthias Hautsch, Tommy Baldu, Edo Zanki, Kosho, Joo Kraus and many more she can be seen live on stage again and again.
http://www.sandiew.de