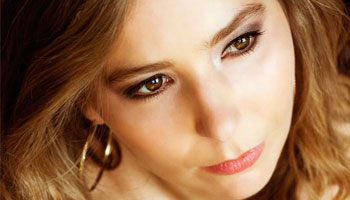 Julia Malischnig

Julia Malischnig's compositions tell stories full of colors and contrasts, intensity and passion. She is a painter of sounds, expressing herself through her music.
She is not only recognized as a brilliant concert guitarist who combines sensibility, modulation in tone and command of technique, she also pushes the boundaries of diverse styles. As a vocalist with her soulful voice she also explores the possibilities of Guitar and Song. At home with many musical worlds the authenticity of her unmistakable style is impressive.
Born in Villach, Austria, Julia Malischnig studied classical guitar at the University of Music in Vienna by the renowned artist Konrad Ragossnig and rounded up her studies by masters like Oscar Ghiglia at the Music-Academy in Basel, Frank Bungarten, Pepe Romero, Alexander Swete and others. Graduating with distinction, a success recognized by the Austrian Ministry of Education and the Arts with an award in 2003, and she has been given other awards since.
In 2005 she recorded her first CD Joy in Havana. Regular concert appearances throughout Europe and in countries such as South Africa, Cuba, Argentina, and Korea ensued, and new strands were added to her playing, expanding her artistic focus. As a second instrument her voice and vocal performance became ever more important and her first compositions emerged. Another important element has been her work with other musicians, such as the Argentinean guitarist José Saluzzi, as well as with artists from other genres, from theatre, literature and contemporary dance.
The production of her double album in 2010 reflects the growth and development of her carrier.
Of a total of 26 tracks, including 15 of her own compositions, virtuous interpretations and arrangements, the album "City of Dreams" delivers insight into her broad spectrum and the art of expressing herself. She established her own production label under Edición La Guitarra Esencial named after her international Guitar Festival "La Guitarra esencial … the art of guitar" at lake Millstatt in South Austria. Initiated 2008 by Julia Malischnig, La Guitarra esencial Festival continues to lead on an annual basis with great success.
Julia Malischnig is a guitarist with voice – an artist following her very own way.