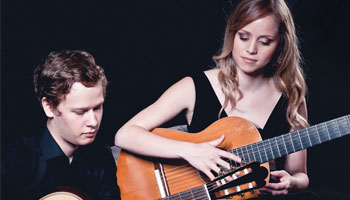 Kaiser Schmidt Guitar Duo
Since 2006, the young guitarists Jessica Kaiser and Jakob Schmidt have been united by their passion for their instrument: the simple and captivating combination of two guitars with their innovative creative will elicits all their liveliness and intensity. They interpret works from Bach to Henze at the highest level.
The KAISER SCHMIDT guitar duo has already won prizes at various competitions. Concerts have taken the musicians beyond national borders to Brazil and Azerbaijan.