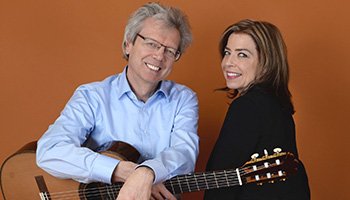 Amadeus Guitar Duo

They are counted among the top-class international guitar duos, receiving enthusiastic reviews from all over the world. Canadian Dale Kavanagh and her German partner Thomas Kirchhoff have made up the Amadeus Guitar Duo since 1991. The secret of their success, regularly documented by more than 70 concerts per year, is the complete devotion of the two artists to their instruments. Hence, they did not limit themselves to playing as a duo, but began to concentrate on the repertoire for guitar and orchestra. Thanks to their commitment, this genre was soon able to emerge from its niche. In more than 100 cities, they played their "Spanish Night" recital, featuring concertos for one, two and four guitars and orchestra by Joaquin Rodrigo and the world-famous pan flautist Gheorghe Zamfir.
The Amadeus Guitar Duo has so far appeared in more than 1.300 concerts in some 60 countries in Europe, Central, South and North America, and Asia. The duo has always been able to delight its audience with its exuberant temperament, virtuoso performance, sensitive creative power and a fulsome, warm, carrying guitar tone. They regularly play together with the Prague, Mainz and Mannheim Chamber Orchestras, the Munich Symphony Orchestra, the Halle Philharmonic State Orchestra, the International Philharmonie, the Gotha-Suhl Thuringian Philharmonic, the Philharmonia Hungarica, the Capella Cracoviensis, the Ankara President Orchestra, and the South Westphalian Philharmonic.
Dale Kavanagh and Thomas Kirchhoff have recorded a large number of productions for radio and television (BBC, ZDF, CBC, WDR, BR, TRT, etc.). They have also recorded 17 CDs (NAXOS International, Haenssler-Classic) which document the high quality of the Amadeus Guitar Duo. The two artists' stirring commitment and inspiring style of playing have enabled them to considerably broaden the repertoire for guitar, especially for guitar and orchestra. Such renowned composers as Harald Genzmer, Gheorghe Zamfir, Roland Dyens (Paris), Jaime Zenamon (Curitiba), Christian Jost (Cologne), Carlo Domeniconi (Berlin), Gerald Garcia (Oxford), Martin Herchenröder (Siegen) have written orchestral concertos for them. Stephen Dodgson (London), Harald Genzmer (Munich), Jaime M. Zenamon (Curitiba) and Christian Jost (Cologne) have dedicated compositions for two guitars to them. All works have been published by Schott's, Mainz – Edition Margaux, Berlin, Edition Peters, Frankfurt, and Verlag Hubertus Nogatz, Essen.
In 1992 they founded the International Guitar Symposium in Iserlohn, which is today one of the most important festivals of its kind in Europe, with more than 300 participants from more than 50 countries, concerts featuring world-famous stars, master courses, lectures, exhibitions, and many other activities (www.guitarsymposium.com).
In the season 2015-16, these successful musicians have been invited to tour the U.S.A., Canada, India, South-Korea, China, Thailand, England, Italy, Austria, Liechtenstein, Switzerland, Turkey, Lithuania, Romania, Hungary and Poland. Today, Dale Kavanagh and Thomas Kirchhoff live with their daughter Melissa-Rachel in Germany, and both are professors who have been teaching at the newly launched guitar class of the Detmold Musikhochschule since 2003 (www.hfm-detmold.de). The Amadeus Guitar Duo plays exclusively D'Addario strings on guitars made in Germany by Toni Mueller, Aarbergen and Kenny Hill, San Francisco and Hanson Yao Xin, Guangzhou.
Press comments
"Surely one of the most innovative duos in the world" (Gitarre & Laute, Germany)
"Real professionals for guitar and orchestra" (Musikmarkt, Germany)
"Any Rodrigo connoisseur will be thrilled with this." (American Record Guide, USA)
"A great success!" on Spanish Night 1 CD (Guitar Art, Italy)
"Once again, thoroughly commendable" on Spanish Night 2 (Acoustic Guitar Mag., USA)