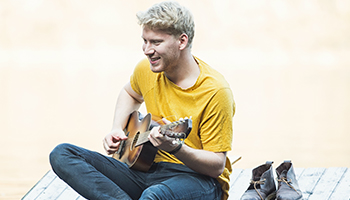 Bertram Burkert
Bertram Burkert (*1994 in Jena) received guitar lessons from Anett Bartuschka from the age of 7 and has been studying classical guitar with Prof. Thomas Müller-Pering at the Hochschule für Musik Franz Liszt in Weimar since October 2013 as well as jazz guitar with and Prof. Michael Wollny, Prof. Richie Beirach and Prof. Werner Neumann at the Hochschule für Musik und Theater Felix Mendelssohn Bartholdy in Leipzig.
Even before his studies he won numerous awards, such as the special prize for the best interpretation of a contemporary compulsory piece at the 10th international "Anna Amalia Competition for Young Guitarists" or the soloist prize of the Deutsche Stiftung Musikleben at the 49th national competition "Jugend musiziert". Since the beginning of 2014 he has been a scholarship holder of the Studienstiftung des deutschen Volkes.
With his trio Bertram received the main prize of the "Jugend Jazzt" 2013 and published his debut album "Das Auge des Betrachters" in March 2014. In the last two years he was guitarist of the German Federal Jazz Orchestra. During this time he has toured the USA, Russia, Italy, Belgium, France and the Netherlands. He also had the opportunity to perform at the opening concert of the Burghausen Jazz Week 2016 with the WDR Bigband, Ron Carter and Richard Galliani.
At the moment he is mainly working with smaller ensembles. In April of this year, his Berlin quartet "Flunder" travelled to the Ostural for a tour. Bertram will play some concerts with a string quartet of the Leipzig Gewandhaus Orchestra and record a new album with Hayden Chisholm, Robert Landfermann and Fabian Rösch in autumn 2016.