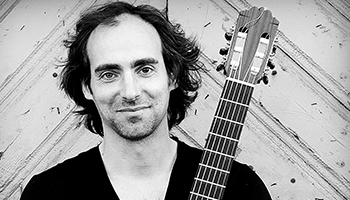 Jörg Hofmann
Jörg Hofmann (1974) is a guitarist, singer and composer. As the founder of the ensemble madrugá flamenca, he has shown his vision of a new, open flamenco concept in numerous theatres and festivals since 2000. With his stage programmes staged in conjunction with dance, he has not only delighted critics and audiences, but has also received various prizes (ZMF, PRO EUROPA).
Information at www.madruga-flamenca.de
As director of the Centre for Flamenco Art in Freiburg, he regularly works with outstanding dancers and musicians of the genre, in addition to his ongoing lessons in workshops. In addition to guitar and singing, he also teaches percussion (Cajón, Palmas) and dance.
Further information can be found at www.la-solea.de
His compositions, which go far beyond the field of flamenco, are now published on several CDs. From traditional Flamenco, over setting to music love poems of the Chilean Nobel Prize winner Pablo Neruda or the German poet Mascha Kaléko in contemporary singer-songwriter style up to rock and pop music arrangements … an enormous stylistic range, which carries however always its personal musical handwriting.
You can find all information about Jörg here: https://www.joerg-hofmann.com