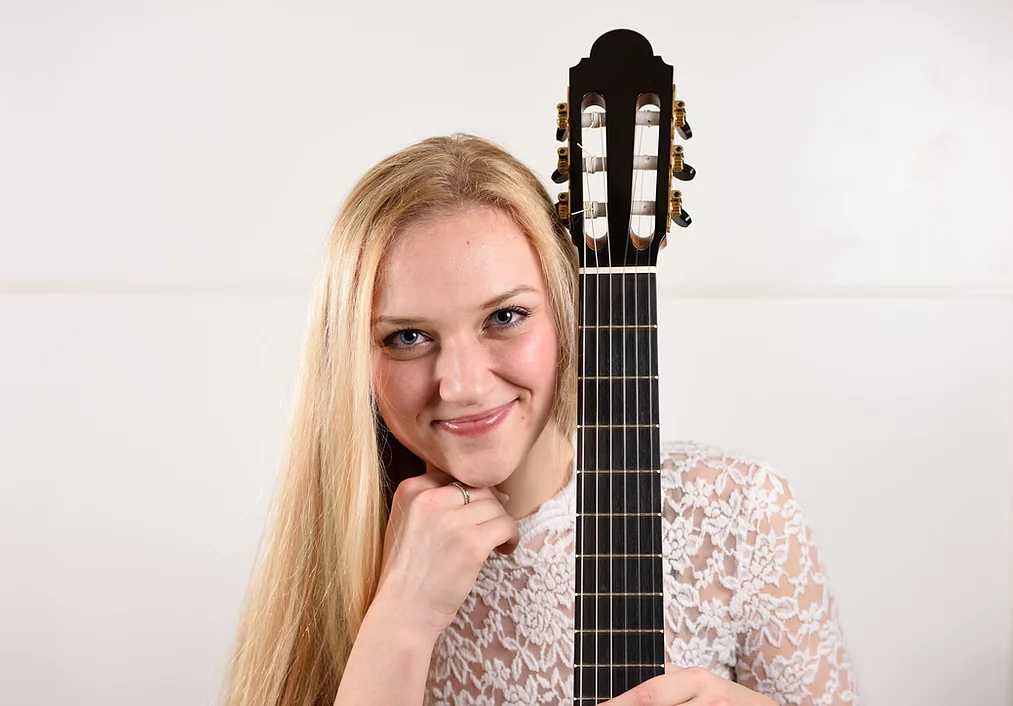 Julia Trintschuk
Biography
Julia Trintschuk started playing the guitar at the age of four with her father. At the early age of six she became a student of Prof. Mario Sicca. Later she continued her studies with Martin Wiedmann, Prof. Johannes Monno, Ivo and Sofia Kaltchev and Mateus dela Fonte.
​During this time she received many prizes and participated in many competitions for example the Certamen Llobet Competition Barcelona, Deutscher Musikwettbewerb, Twents Guitar Festival Enschede, International J. K. Mertz Competition Bratislava, Forum Gitarre Wien, International Gianni Bergamo Music Award Lugano and many others.
​Since 2009 she regularly takes part in different guitar festivals (e.g. "International Guitar Festival Nürtingen", "International Guitar Symposium Iserlohn", "Meisterkurse Schleswig-Holstein Musik Festival", "International Guitar Festival Hersbruck", "International Guitar Festival Wertingen", "Stuttgart International Classical Guitar Festival", "Hamburger Gitarrenfestival"). At these festivals she received masterclasses with Pepe Romero, Scott Tennant, William Kanengiser, Marco Tamayo, Pavel Steidl, Matthew Greif, John Dearman, Johannes Tonio Kreusch, Dmitri Illarionov, Judicael Perroy, Anabel Montesinos, Andrew York, Roland Dyens, Costas Cotsiolis, Gerald Garcia, Dale Kavanagh and many other important personalities of the international classical guitar community.
Julia Trintschuk launched her performance career at the age of 16 with the well-known "Concierto de Aranjuez" by Joaquin Rodrigo and has played as a soloist and chamber musician in places all over the world such as Russia, Mexico, Spain, Italy, Slovakia, Poland, Switzerland, Austria, the Netherlands and Germany.
In May 2017 her Debut-CD "Giocosa" was published.
Since 2017 she is a "Savarez Artist" and uses the strings "Cantiga Creation 510 MJ".
​Currently Julia is making her Bachelor's degree at the University of Music and Performing Arts Stuttgart in the class of Mateus dela Fonte.
"Madonna with guitar"
                                                                          – Augsburger Allgemeine
​​
"With her skill, she seems to be able to walk through all the techniques of the guitar playing effortlessly, integrating her listeners into the incredible possibilities offered by the guitar."
                                                                           – Augsburger Allgemeine
​
"Crystal clear playing, empathic abandon and an expressiveness rich in images."
                                                                          – Südwest Presse
​
"The lightness of her perfomances is magnificent."
                                                                           – Südwest Presse
​
"She creates a tender and many-faceted soundscape."
                                                                            – General Anzeiger Reutlingen