Julian Alexander Bream was born in Battersea/London and grew up in a very musical family. His father, Henry George Bream, played jazz guitar and the young Julian Bream was impressed when he heard music by Django Reinhardt. He was encouraged to learn piano, but also guitar. After listening to a recording of Tárregas Recuerdos de la Alhambra, played by Segovia, provided by his father, he decided not to become a cricket player but a guitarist. On his 11th birthday, Bream was given a concert guitar by his father, which he learned to play by himself. At the age of 12 he won a junior competition on the piano, which enabled him to study piano and cello at the Royal College of Music. He gave his first concert on the guitar at the age of 13 in Cheltenham in 1947. As a teenager he played film music as a classical guitarist.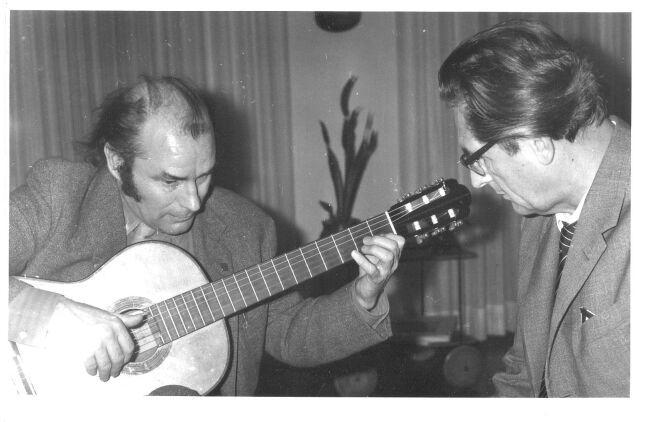 He made his debut in 1951 at Wigmore Hall in London. After his military service, during which he played in a big band electric guitar, he resumed his professional career and gave concerts all over the world for a few years. The programme included an annual tour of the USA and Europe.
Bream was one of the musicians who made the lute popular again in modern times. With the tenor Peter Pears, Bream, as lutenist, gave numerous recitals in the 1950s and 60s with works by English Renaissance composers (John Dowland, Thomas Morley, etc.); through this collaboration and as lute soloist, Bream brought the music of the 16th century, the Elizabethan period, closer to a large audience. In 1960 he founded the Julian Bream Consort, in which he played the lute, as one of the first groups to perform early music on original instruments. (Another lutenist of the Julian Bream Consort was James Tyler from 1975). In 1963 he played with the Indian musician Ali Akbar Khan, broadcast live on the BBC, and then travelled to India. In 1964 he became Officer of the British Empire.
His theme evenings were very far-reaching. He played pieces from the 17th century, works by Johann Sebastian Bach arranged for guitar, works by the Brazilian composer Heitor Villa-Lobos, but also popular Spanish pieces.
Many composers worked closely with him and wrote works for him, including Malcolm Arnold, Benjamin Britten, Leo Brouwer, Peter Racine Fricker, Hans Werner Henze, Humphrey Searle, Tōru Takemitsu, Michael Tippett and William Walton. One example is Britten's Nocturnal after John Dowland, composed in 1963, which develops John Dowland's Come Heavy Sleep, one of the most important pieces for classical guitar. The composer Benjamin Britten always had Bream in mind when working on Nocturnal. Another outstanding work composed for Bream are the Sonatas of Royal Winter Music by Hans Werner Henze. Bream's interpretations on guitar of the piano works Suite española by Isaac Albéniz and Danza No. 5 from the Danzas españolas by Enrique Granados are considered milestones in the history of interpretation.
In the London publishing house Faber Music he published the Faber Guitar Series with sheet music editions for the classical guitar. Through his numerous performances, television and radio broadcasts, Bream became a leading figure in 20th century classical guitar music. In 1967 he released his album 20th Century Guitar.
For television Bream produced "Guitarra! – A musical Journey through Spain". This film series in eight parts about the entire history of the instrument was broadcast in several countries and is also available on DVD. In these films Bream plays not only the classical guitar but also vihuela, renaissance and baroque guitar.
An extensive DVD was released in 2003 with My Life In Music by director Paul Bahner, containing three hours of interviews and concerts. Graham Wade described it as "the most beautiful film about the classical guitar ever".
Julian Bream gave his last concert in Norwich in 2002.