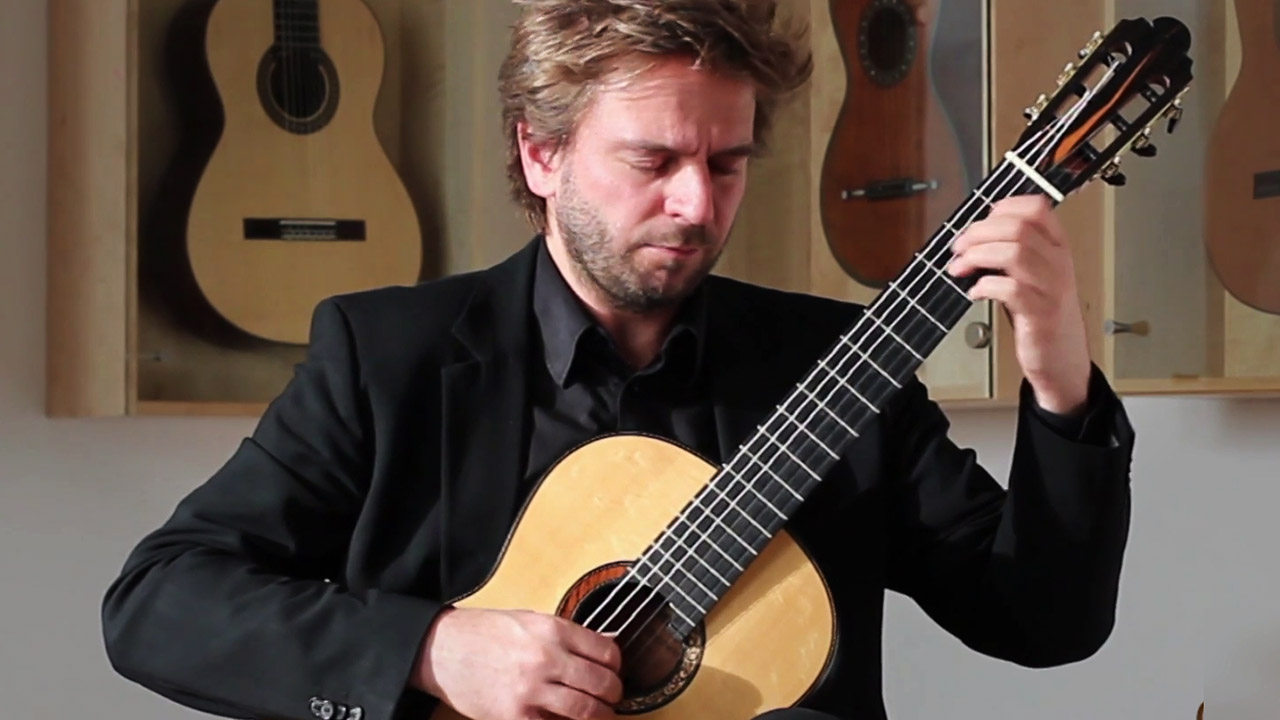 Marcin Dylla
Hailed by Washington Post as "among the most gifted guitarists on the planet" Polish guitarist, Marcin Dylla is a rare phenomenon in the recent history of Classical Guitar. Many music critics, connoisseurs, and music lovers certify that Marcin Dylla is among the world's elite of classical guitar players. He has earned this position, among others, to the unparalleled number of awards including 19 First Prizes from 1996-2007 at the most prestigious international music competitions around the world. His last triumph was the Gold Medal of the '2007 Guitar Foundation of America International Competition' in Los Angeles known as the most prestigious guitar contest in the world followed by tour of over 50 cities in North America, Mexico and Canada during 2008-09 season, live recital video recording for Mel Bay Publications and CD recording for Naxos that reached the Naxos 'Top 10 Bestselling Albums' in September 2008. His live recital DVD "Wawel Royal Castle at Dusk" was nominated for 2010 Fryderyk Award (equal to American Grammy) in the category of Solo Classical Music Album of the Year.
Mr. Dylla made his Concertgebouw recital debut in November 2016 during a busy 2016/2017 season where he was also the appointed faculty in residence at the San Francisco Conservatory of Music for the Fall 2016 semester. Recent tour highlights included return invitations to Mexico, Chile, and recitals throughout Asia including Japan in Tokyo, Nagoya, Fukuoka, Hiroshima, and Hokkaido. In Taiwan at Taipei National Concert Hall with Taipei Symphony Orchestra, and Carnegie Hall debut during a two-month tour of North America with recitals covering both coasts. In Europe, he returned to Konzerthaus in Vienna and is invited to appear at the Koblenz International Guitar Festival and Competition, a major festival for the classical guitar each year, where he's a beloved regular.
Regular recital invitations in the U.S. have taken Mr Dylla to Cincinnati, Lexington, Chicago, Los Angeles, San Francisco, Sonoma, Cleveland, New York, Utah, Miami, Boston, New Jersey, and Seattle as well as appearing with Riverside Symphonia in Piazzolla's double concerto for guitar and bandoneon. In Europe, extensive tours take him regularly to the U.K., Norway, Spain, Hungary, Sweden, Denmark, Poland, and Italy where he returned to serve on the distinguished jury panel of the 42nd edition of Michele Pittaluga's International Classical Guitar Competition.
Mr. Dylla's orchestral engagements included subscription concerts with the Warsaw Philharmonic conducted by Christian Arming performing two concerti (Ponce's Concierto del Sur and Rodrigo's Concierto de Aranjuez) on two consecutive nights, in addition to recitals throughout Europe every year. In the U.S., he performed as soloist with the Bakersfield Symphony Orchestra during their new music director search. Furthermore, he has appeared as soloist with the Buffalo Philharmonic Orchestra led by JoAnn Falletta, Orquesta Sinfónica de Radio Television Espanola (RTVE Madrid, Spain), St. Petersburg Philharmonia Orchestra (Russian Federation), Orchestra Filharmonica di Torino (Italy), the Stuttgart Radio Symphony Orchestra at Stuttgart Liederhalle, in Romania with the National Romanian Radio Orchestra in Bucharest, and the Essen Chamber Orchestra (Germany).
In 2006, Cecilia Rodrigo, daughter of the legendary Spanish composer, Joaquin Rodrigo, chose Mr. Dylla to perform the world premiere of a lately discovered new guitar work by her father entitled 'Toccata' (1933) at Reina Sofia Museum of Modern Art in Madrid. In 2002, at the 7th International Guitar Convent in Alessandria, he was granted a "gold guitar" musical critics' award for the best coming young guitar player.
He has appeared in a number of distinguished concert halls including Konzerthaus, Musikverein and Palais Lobkovitz in Vienna (Austria), Auditorio Nacional and Auditorio Conde Duque in Madrid (Spain), St. Petersburg Philharmonic Hall (Russian Federation), Kleinhans Music Hall in Buffalo (USA), Villa Hügel in Essen (Germany) and the Palazzina Liberty in Milan (Italy). Apart from his guest performances at virtually every major European and North American guitar festival, he has been regularly invited to appear at Festival Internazionale Settimane Musicali di Stresa (Italy), Don Quixote Music Festival (Paris, France), Burghofspiele Eltville (Germany), International Festival Musical Olympus (St. Petersburg, Russian Federation), Inverno Musicale (Alzano, Italy), Central European Music Festival (Zilinai, Lithuania), Festival Internacional de Música (Toledo, Italy), and Musique Dans la Rue (Aix-en-Provence, France).
Marcin Dylla was born in Chorzow in 1976 and received his first guitar lessons at the Ruda Slaska Music Conservatory in his native Poland. From 1995 to 2000 he studied at the Music Academy of Katowice with Adi Wanda Palacz and later completed his studies with Oscar Ghiglia, Sonja Prunnbauer and Carlo Marchione at the Music Academies of Basel (Switzerland), Freiburg (Germany) and Maastricht (The Netherlands), respectively. He is currently a Professor of Guitar at the Music Academy in Katowice and Westfälische Wilhelms-Universität Münster.
Link: www.marcindylla.com