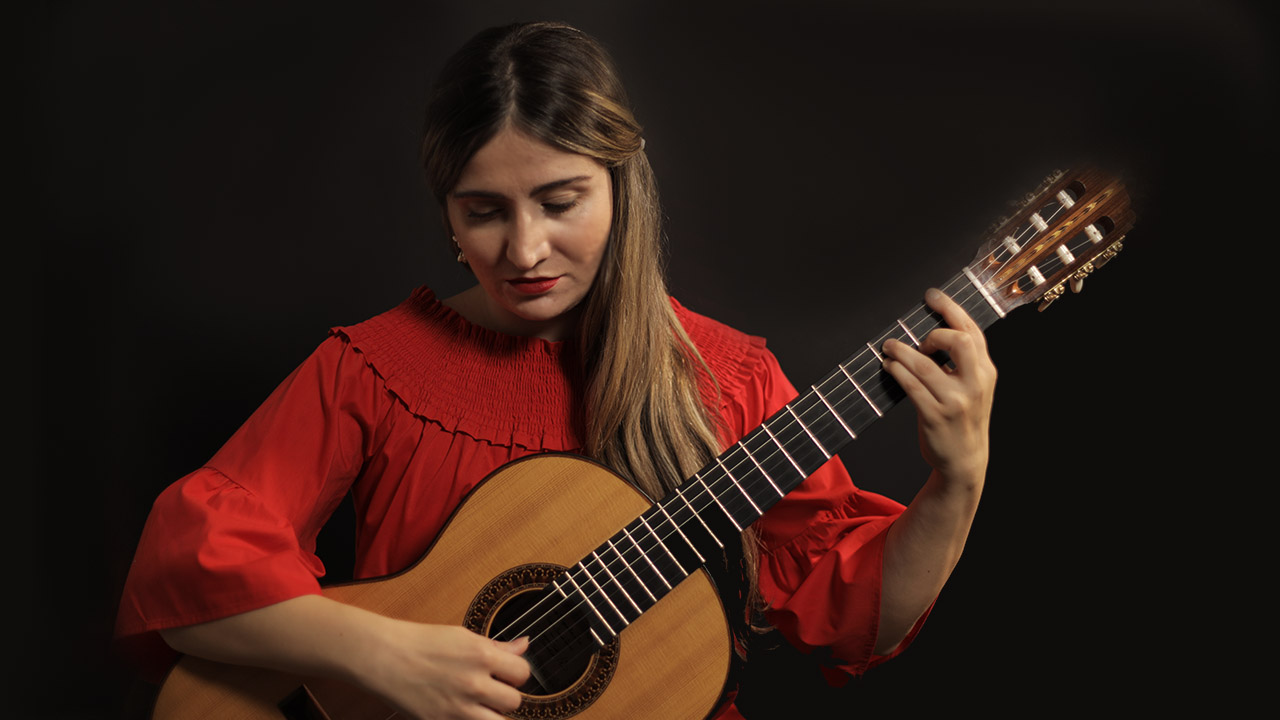 Gvaneta Betaneli
Gvantsa (Gvaneta) Betaneli – Georgian classical guitarist, winner of numerous national and international competitions, considered one of the best performers of her generation.
Gvaneta was born in Tbilisi, Georgia. She started guitar lessons at the age of three under the guidance of her father Ferdinand Betaneli. She played her first solo concert at the age of 5. At the age of 13, she successfully participated in a competition and became a soloist with the State Philharmonic Orchestra of Georgia. A year later she started recording for famous labels in Georgia, followed by many concerts in different countries and an international career.
Gvaneta graduated with honours from the Music High School of the Tbilisi State Conservatory – Central Music School for Gifted Children. At the age of 16, she became the youngest student at the Tbilisi V. Sarajishvili State Conservatory, where she completed her Bachelor's and Master's degrees with top grades.
In 2011, Gvaneta received a scholarship from the DAAD (German Academic Exchange Service) to study at the Frankfurt University of Music and Performing Arts (HfMDK Frankfurt). In 2014 she completed her studies at the HfMDK with the KA diploma. She then continued her studies at the same university in the class of Helmut Österreich for a Master's degree, which she also completed with top marks in 2017.
During her studies at the Tbilisi Conservatory, Gvaneta received a scholarship from the President of Georgia five times in a row, which is one of the most prestigious awards for students in the country.
In Germany, she was sponsored four times by the DAAD. Among them, she was awarded a semester scholarship for the best foreign students "DAAD STIBET III" three times in 2013, 2014, 2016.
In November 2018, Gvaneta won the audition and received another prestigious scholarship for musicians – the scholarship of the Yehudi Menuhin Live Music Now association.
Gvaneta has also participated and won prizes in numerous national and international competitions in Armenia, Belarus, Georgia, Ukraine, Croatia and Russia. She has won more than ten prizes, including the second prize at the 2nd International Guitar Competition Bale-Valle "Live Guitar" (Croatia, Bale); The first prize at the 10th International Guitar Competition "Guitar Renaissance" (Belarus, Gomel); The second prize at the 1st International Guitar Competition in Tbilisi (Georgia Tbilisi); The first prize at the III International Competition of Musicians' Performers "Renaissance" in (Armenia, Gyumri); The second prize at the II National Competition of Classical Guitar (Georgia, Tbilisi).
She also received many other awards: in 2010 she was awarded a Special Diploma of the Ministry of Foreign Affairs of Ukraine and the Embassy of Ukraine in Georgia for her special contribution in cultural relations between two countries.
In 2017, she received a special diploma from the Municipality of Cartama (Spain) for her concert tour in Spain.
She regularly presents master instruments of famous guitar makers and records videos with the renowned guitar salon Siccas Guitars (Karlsruhe, Germany). Her videos have hundreds of thousands of views on YouTube.
Gvaneta has an active concert life. From a young age she has performed at numerous concert venues in Georgia, Russia, Ukraine, Belarus, Germany, Spain, France and Costa Rica. She has participated in international charity concerts and festivals and given master classes. In addition to her solo career, Gvaneta often plays chamber music. She gives many concerts as a member of duos, trios and various ensembles.
Many reviews of Gvaneta's concerts have been written by magazines, newspapers and internet portals around the world.