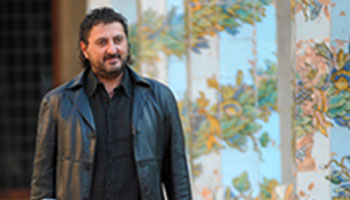 Aniello Desiderio

Born in Naples in 1971, ANIELLO DESIDERIO started playing guitar when he was very young. He studied with B. B. D'Amario and Stefano Aruta; he also attended musical interpretation classes with Leo Brouwer, who chose Mr. Desiderio for special group lessons. In 1992 he graduated with honours from the Conservatory of Music in Alessandria.
At the age of eight, he performed in public for the first time, displaying such outstanding gifts that music critics started to speak of him as an "enfant prodige"… Wunderkind…a genius,….the Orpheus of the Guitar….a guitarist of the Century…il Fenomeno…. etc.
He won 18 first International Awards in both national and international competitions, including…
First Prize at the Donia Competition Messina, Italy (1986)
First Prize and Special Prize for the best interpretation of southamerican music at the International Guitar Competition in Habana, Cuba (1988)
"Neapolitan of the Year" Award for Mr. Desiderio, Italy (1988)
First Prize and Special Prize of best interpretation of Tarrega's music at the International Francisco Tarrega Competition Benicasim, Spain, (1992)
First Prize at the International Competition "Citta' di Sanremo" Italy (1994)
First Prize at the International "Guerrero,, Competition Madrid, Spain (1995)
Artist in Residence Award by the German Radio & Musikfest Bremen, Germany (1999)
His international career started in 1989 during the International Guitar Festival in Volos (Greece). This was the starting point for his career as an international artist, one who now performs all over the world in countries such as Switzerland, France, Austria, Germany, The Netherlands, Finland, Spain, Greece, Italy, Denmark, Ireland, Norway, Sweden, Poland, Hungary, Turkey, Cuba, Columbia, Venezuela, Japan, Canada and United States, both as soloist and with Orchestras like the VIRTUOSI DI MOSCA with VLADIMIR SPIVAKOV, RSO BERLINER, DEUTCHE KAMMERPHILARMONIE, ALESSANDRO SCARLATTI
He played for many important associations and festivals and in some of the most prestigious theatre around world, such as "Radio France", in Italy, "Ravello festival" "A. Scarlatti", "Megaride", "I Pomeriggi Musicali" in Germany, "Berlin Philarmonie", "Rheingau Musik Festival", "Bayerische Rundfunk TV", Musikfest Bremen, Ludwigsburger Schloßfest-spiele, Omni Concert Series, S. Francisco, Alte Opera Koln, Tonhalle Dusseldorf, Filarmonie and Prinzregententheater, Munich , Die Gloke, Bremen, etc.
In Nov. 1996 he made his New York Debut at the Manhattan School of Music (concert/ masterclass).
In May 1999 the German Television BR/ARD produced a music film (45 min.) and a portrait (45 min.) of ANIELLO DESIDERIO in Naples. It was broadcast more than 10 times Europe wide between 2000-03.
In Sept. 99 he received the "Artist in Residence Award 1999" from the German Radio DLF and the Musikfest Bremen together with Gidon Kremer, who received the "Großer Musikfest Preis".
2001/02 Aniello Desiderio was on tour with the Rundfunk-Sinfonie-Orchester Berlin und der Deutschen Kammer-Philharmonie, he was invited to the 70th birthday Gala of Maestro LORIN MAAZEL by the Bavarian Radio & TV station. He also toured extensively through out Mexico, Indonesia, and Europe.
In 2003 he co-founded the WORLD GUITAR ENSEMBLE, where he played togheter with some of the best guitar players around the world, followed by its first European tour and made many radio and TV recordings. He also toured in Europe (Paris, Wien, Barcelona,..) the US (San Diego, New York, Nashville) and in Brasil (Rio, Sao Paolo), giving both solo recitals and performing with orchestras.
2004 he toured the US again – in San Francisco, Los Angeles and New York, etc….he founded together with his brothers Gennaro and Gaetano Desiderio and other famous Neapolitan musicians the group Passione Napoletana, performing the highly emotional music of his home town Naples – "Serenate, Tanghi, Danze, Canzoni e Tarantelle Napoletane" . He was one of the performing artists of a prestigious German TV show – ZDF (German 2nd canal) which was broadcast Europe wide.
2005, aside from his solo performing in Germany, Spain, Italy, Croatia, Indonesia, etc he toured with the World Guitar Ensemble throughout Europe, incl. Istanbul, Athens, Montpellier, and at German Summer Festivals like Ludwigsburg, Rheingau, Mosel, Bremen, Würzburg, etc and through out the USA. He also performed with the Bavarian Chamber & Romulo Larrea (Bandoneon) Tango con Passion, in Germany and in Turkey with the Istanbul State Symphony Orchestra.
2007 aside his solo touring – Aniello Desiderio and his brothers Gennaro (violin) and Nino (piano) Desiderio, Romulo Larrea, bandoneon from Montevideo and the singer Veronica Larc from Buenos Aires set the audience alight with their new TANGO -Project "Tango y Milongas.
He records for FRAME; WAKU MUSIC; KOCH-UNIVERSAL; and since 2006 he record for his own company ADORO RECORDS.
In 2005 he has become a Teacher for Guitar at the International Music Academy of Koblenz (Germany).
In 2009 he has become a teacher at Conservatorio "Domenico Cimarosa" of Avellino (Italy) where he start a post graduated course.
In fall 2009 he has create his last project: Aniello Desiderio's "Quartetto Furioso" play with Gennaro Desiderio violin, Gaetano Desiderio piano and Salvatore Minale drums and percussion the programme of: Vivaldi 4 and 4 Piazzolla Seasons and he realize the cd of this project for the famous german lable TERMIDOR which has as well artist as Paquito D' Rivera and Sabine Mayer.
In the 2010 Aniello performed the Concerto Madrigal of J. Rodrigo with one of the legend of classical guitar Angel ROMERO.
From 2010 he give masterclass during the Summer International Academy for Mozarteum (Salzburg).
John McLaughlin chosen Aniello for the European Premier of his Concerto "Thieves and Poets" in May 2012 during Koblenz International Guitar Festival.
From 2010 he play in duo with Lucio Matarazzo
Nothing is impossible for Aniello with his instrument Classical Guitar / England
He is very young, but he plays like an angel Les Cahiers de la Guitare/ France
Aniello grande triunfadore Gramma Cuba / Cuba
The most brilliant talent of the decade Süddeutsche Zeitung / Germany