Luthiers from around the world
The modern French name for luthier goes back to lute making. In the German-speaking world, the makers of stringed instruments were called violin makers, as violin was the generic term for various stringed instruments. However, violin makers also occasionally made plucked instruments such as lutes, mandolins, harps, guitars and hurdy-gurdies. Clear demarcations between the instrument makers were created later and regionally by professional associations. The craft of luthiers is usually divided into two main categories: Makers of stringed instruments that are plucked or bowed, and makers of stringed instruments that are bowed. Since stringed instruments require a bow, there is a sub-type in the second category known as a bow maker or archetier. Two important luthiers of the early 19th century who are associated with the development of the modern classical guitar are Louis Panormo and Georg Staufer. Antonio Torres Jurado is credited with developing the shape of the classical guitar that is still in use today. Christian Frederick Martin from Germany developed a form that evolved into the modern steel-stringed acoustic guitar.
You want to publish your personal luthier profile here? Then contact us. Please send us your article and pictures to manuel(at)siccasguitars(dot)com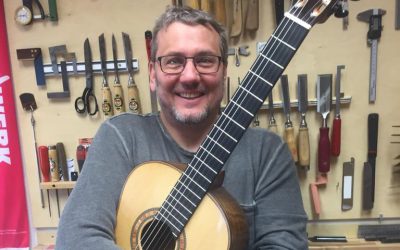 Thomas Friedrich completed his training at the violin-making school in Mittenwald in 2007. He gained experience in new guitar construction and repairs before receiving his master craftsman's title as a plucked instrument maker in 2014. In addition to the technical...

GUITARS AND THEIR LUTHIERS