The world's finest guitars in one place
Luthier's art – Handmade classical and rare guitars
Alexandra Whittingham VLOG
Ho ho ho, what's this? Alexandra Whittingham shot a VLOG during her last visit! ?
Curious about what it is to record at Siccas Guitars? Then check out this VLOG by Alexandra!⁠
Experience the sound of classical guitars!
We record classical guitar videos in our recording and video studio in cooperation with classical guitarists from all over the world. They are presented on our Youtube Channel. Furthermore, we also publish recordings of classical guitar concerts we organize.
The world's finest guitars in one place
We believe that it should be easy to buy and sell classical guitars.
We believe that everybody who searches for a guitar should find their dream guitar easily and choose from a wide range of master guitars.
And we believe that everybody who wants to sell their guitar should be allowed to offer their guitar on our free and professional Siccas Guitars platform and reach customers globally.
The perfect setup for your classical guitar!
Daniel Füzesi is part of the Siccas Guitars team and takes care of all our customers' guitars that need minor repairs or major restorations with great skill, expertise, and attention to detail. In addition, he also builds beautiful guitars.
What our customers say about us
Outstanding customer service. My multiple questions and concerns (this was my first online classical guitar purchase) were all addressed in a timely fashion by a friendly and knowledgeable professional. The salesperson, staff member Manuel Luchena even went to the extra effort to contact the luthier directly in order to answer one of the questions I had about the guitar. The number of guitar images, as well as the image quality of the guitar photos of the guitars, is superior to the other online classical guitar stores that I looked at. I am extremely happy with the guitar I purchased and would definitely purchase another guitar from Siccas Guitars if the need arises.
Matt, Charlottesville (VA), USA| Customer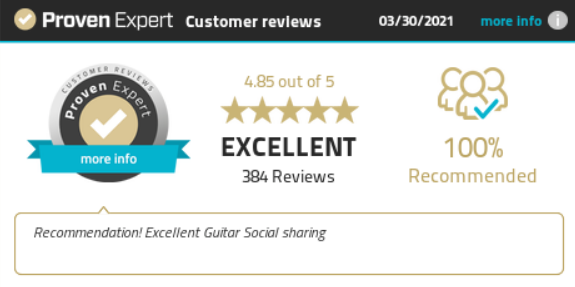 The guitar
The guitar has been one of the most popular musical instruments for many years. Whether it is an acoustic or electronic musical instrument, whether it is quiet or loud, whether at home or on stage, it can be used as a solo or accompanying instrument. It is as versatile as other instruments. When it comes to musical taste, there may be no style that cannot be achieved on the guitar. Of course, there is a correspondingly large selection of suitable guitars in every price range. There is a fundamental difference between Concert Guitar, Spanish Guitar, Acoustic Guitar, and Electric Guitar. The advantage of a concert guitar with soft nylon strings is that your fingers are not stressed as much when pressing the strings as when playing steel-string guitars. In addition, the fingerboard on Classical guitars is wider, so that it is initially easier to hold and there is no risk of accidentally damping the freely vibrating strings with your fingers. The classical guitar sound is soft, very light, and very pleasant to play, especially for beginners. Therefore it is recommended for most people to learn to play the guitar with a classical guitar. Of course, this does not apply to everyone. If you only want to play blues or folk songs on a Western guitar or rock music or metal on an electric guitar, what good is that then? Frustrating years of practicing on a guitar that you don't really want to play – the motivation passes quickly, practicing is no fun, the dream of making music is quickly over. Therefore you should ask yourself what kind of music you want to make at the beginning. Don't worry: After a short time, your fingers will get used to the steel strings of acoustic guitars. So if you know what kind of music you want to play in the long run, you will soon know which guitar to buy. At Siccas Guitars we stock one of the largest selections of classical guitars in Europe. Whether you are looking to buy your first guitar or the exceptional instrument of your dreams, we can help you find your dream guitar.
The Classical Guitar, The Spanish Guitar
The classical guitar, the concert guitar or the Spanish guitar are the same instruments. However, classical guitars are covered with nylon strings, while acoustic or acoustic guitars are covered with steel strings. Antonio de Torres (1817-1892), is considered the pioneer of modern guitar making. His instruments became the starting point for the development of classical guitars in the 19th and 20th centuries. The revolutionary significance of Antonio de Torres' guitars is due to their constructional features. The body has a larger volume and thus more projection power. Although Torres' guitars are larger, he kept the weight of his guitars as low as possible. In places, his guitars have 2.5mm wall thickness on the body. To account for the fact that the top has to withstand string tension despite its lightweight and thinness, he used a fan brace instead of the previous horizontal braces. This strengthens the soundboard and distributes the vibration over the entire surface. The scale, which is the length of the freely vibrating string, is usually set at 65 cm. Torres widened the fingerboard to give more room to the fingers of his left hand. To tune the guitar, he used a more accessible action instead of wooden pegs. The classical guitar is mainly used in classical music (especially chamber music) and folk music, Latin American music, and flamenco dance.
Classical Guitar or Acoustic Guitar?
Those who love to play the guitar will find a wide range of classical guitars with nylon strings as well as modern acoustic guitars with steel strings at Siccas Guitars. Classical guitars are characterized by flat and wide fingerboards that produce warm and soft classical sounds and flamenco sounds when moved with the fingers, while acoustic guitars can be played with fingers or picks. The sound is therefore clear and powerful and is rich in color. Due to the higher string tension of this model, the fingerboard of the acoustic guitar is narrow and curved, which makes it easier to play chords.
Learn to play guitar
Learn guitar as a beginner or enjoy the noble sound of a master guitarist as a music lover. At Siccas Guitars, you can get plenty of professional advice on which instrument is best for your needs. At Siccas Guitars you will find a wide variety of high-end guitars from all the well-known guitar manufacturers. From beginner instruments to handmade master guitars and rarities, Siccas Guitare offers a variety of options to play and test.
The sound of a classical guitar
Which sound you prefer, the solid spruce top or the warmer and more voluminous sound of the solid cedar top is a matter of taste. In the premium guitar segment, you will find fully solid classical guitars with both cedar and spruce tops. Solid means that not only the top but also the sides and the back are made of solid wood.
Guitar quality inspection before shipment
At Siccas Guitars, all guitars are thoroughly checked and adjusted by our team of experts to ensure you get unlimited enjoyment from day one with your guitar. You can also have your guitar customized with us, our luthier is ready to assist you! Due to the worldwide demand for top-quality instruments, a large part of the instruments are sold all over the world via the website. Unlike many other dealers, Siccas Guitars focuses on high-quality and rare guitars, e.g. of Hermann Hauser I, Hermann Hauser II, Hermann Hauser III, Daniel Friederich, José Ramirez, Paulino Bernabé, Santos Hernandez, Domingo Esteso, Enrique Garcia, which are presented on www.siccasguitars.com and via social media channels. The customer can watch lovingly produced videos on Youtube and on the website. Videos of masterful musicians such as Ana Vidovic, Tatyana Ryzhkova, Isabella Selder, Julia Trintschuk, Stephanie Jones, Cyprien N'tsaï, Alexandra Whittingham, /Carlotta Dalia, Julia Lange, Judith Bunk, Roman Viazovskiy, Valeria Galimova, Natalia Lipnitskaya, Edson Lopes, and many more are presented here. Siccas Guitars is specialized in classical guitars, acoustic guitars, as well as historical guitars from around the world. Besides buying classical guitars, you can choose from a large assortment of concert and student guitars. Together with their customers, we want to further develop new ideas and share experiences.
The sound of guitars with spruce or cedar top
The most commonly used top woods for classical guitars are cedar and spruce, which produce a fundamentally different sound. The spruce top is lighter in color compared to the usually darker-sounding cedar top and the acoustic is similar. Classical guitars also sound more brilliant in the higher frequencies and need a longer break-in period. The cedar top, on the other hand, has a very direct and overtone-rich tone response right from the start. The cedar top sounds much more voluminous and warmer than the spruce.
We are selling your guitar for you
At Siccas Guitars, you have the possibility to sell your classical guitar, spanish guitar. For our consignment service we do not charge you any fee and after the sale, you get the price you requested for the guitar. You also have the possibility to sell the guitar directly to us, if the guitar fits with our selection of instruments. Besides that, we offer you the option to take your guitar as a trade-in if you're looking for a new guitar. In all these cases we need a description of your guitar and good photos. If you decide to trade in your guitar on Siccas Guitars, we need as much information as possible about your guitar, such as repairs, the name of the guitar maker, the year of manufacture and detailed pictures. Within 48 hours we will contact you to discuss the further procedure and to let you know if we can take your guitar on consignment. After we have received your guitar, we will present it on Siccas Guitars with pictures and a description.
Consignment
Best way to get a higher price for your guitar
Presentation on our Siccas Guitars platform
Reach worldwide attention
Consignment
Best way to get a higher price for your guitar
Presentation on our Siccas Guitars platform
Achieve worldwide attention
Instant Purchase
Get your offer within
48 hours
Sell directly to Siccas Guitars
Smooth transaction
Instant Purchase
Get your offer within
48 hours
Sell directly to Siccas Guitars
Smooth transaction
Trade-In
You can give us your preguitar as a trade-in for a new one
Offer within 48 hours
Safe and fast transaction
Trade-In
You can give us your od guitar as a trade-in for a new one
Offer within 48 hours
Safe and fast transaction
Impressions out of our Classical Guitar recording studio
In our in-house sound and video classical guitar studio, we offer guitarists from all over the world the opportunity to produce videos and publish them on our YouTube channel – for free. With over 1000 classical guitar music videos, over 400,000 subscribers and over 100,000 daily views, Siccas Guitars has the largest classical guitar YouTube community in the world.
Who's the luthier? Click on the picture to find out.
Originally, the soundhole rosettes were used as a support to prevent cracking of the wood at the soundhole. Over time, in addition to their protective function, their role as an aesthetic element has become more firmly established. The name "rosette", originated in reference to church windows, which were commonly called "rosette windows".Since the Middle Ages, churches used decorations to form the arch of the window. Some luthier began to use the rosette for all their guitars, using it as their personal signature.
The Classical Guitar headstock
Unlike the lute, the Spanish vihuela had a flat head plate instead of the usual pegbox. The pegs – at that time still simple wooden pegs – were inserted through holes in the head plate from behind. Later, with the invention of the gear mechanism, the guitarists wanted to keep the typical pegs at the back, and so they developed the head plate with two slots and transverse axles, as we know it from today's classical concert guitar. As the rosette's many luthiers created their own headstock designs which some of became inseparable from the guitar maker, such as the headstock of
Daniel Friederich's
concert guitars with the beautiful relief on it. Click on the pictures to find out more about their creators.

GUITARS AND THEIR LUTHIERS