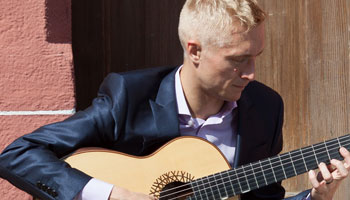 Frank Fischer
Already at the age of 8 Frank Fischer (*1978 in Thuringia/Germany) played his first concerts on the guitar. He won various competitions for children and young people, whereupon the Erfurt Music School accepted him as a talented student. At the age of 15 Frank received weekly lessons from Prof. Jürgen Rost at the Hochschule für Musik "Franz Liszt" in Weimar.
Directly after graduating from high school in 1997, Frank Fischer began his guitar studies with Prof. Rost. He owes his comprehensive repertoire knowledge from the Renaissance to New Music to him. During his studies in Weimar, Frank attended various guitar courses. He received lessons from Zoran Dukic, Laura Young, Aniello Desiderio, Hubert Käppel, Carlo Marchione and Dusan Bogdanovic. Frank Fischer completed his studies in Weimar in 2002 with a diploma in pedagogy and a concert diploma in guitar. The latter was so outstanding that he received a scholarship from the Sparkasse Thüringen.
After Weimar, his training took him to the Basel Music Academy, where he completed postgraduate studies with the internationally renowned guitarist Stephan Schmidt. He specialized in the music of Johann Sebastian Bach and his contemporaries as well as in new music. The work with Stephan Schmidt was extremely enriching for Frank Fischer, as he recalls: "With Stephan music became philosophy. We discussed, for example, how a player should think during a concert in order to keep the music at the highest energetic level and thus create an experience for the listener".
In 2005 Frank finished his studies at the Music Academy with two "excellent" concerts and was thus one of the few guitarists to receive a soloist diploma in Basel. Another stroke of luck for Frank's musical development was his lessons with Ken Zuckerman at the Music Academy. Ken Zuckerman was a pupil of Ustad Ali Akbar Khan and is a master of the Indian instrument Sarod. In 2003 Frank began to study with him and is now also a master pupil of Ken Zuckerman.
Frank Fischer's artistic work has since had two poles: classical guitar music and improvised Indian music. He offers his audience concerts on guitar and sarod on a high technical and artistic level. He constantly expands his large repertoire with new guitar composers and ragas of Indian music. Frank Fischer regularly performs as a soloist with guitar and sarod in Switzerland and other European countries.