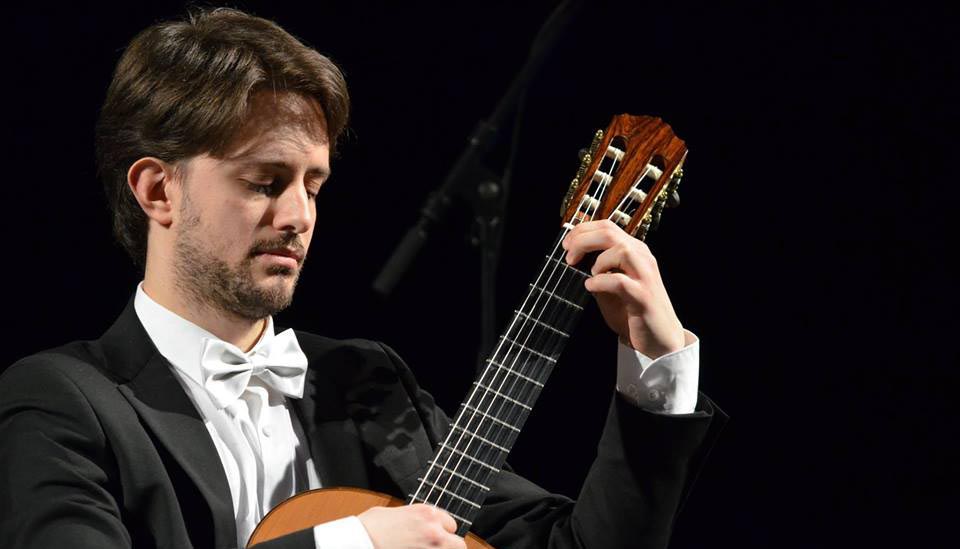 Davide Giovanni Tomasi
"He has really amazed us for his flawless and enchanting technique and his expressive maturity, uncommon in such a young musician: warmness of the sound, breathing phrasing, refined colours; you had the feeling that the artist and his instrument were one" (Carla Zanetti Occleppo – "Il Risveglio Popolare").
"Tomasi performed another miracle at Klarisky Hall. (…) He chose two demanding compositions, never once hesitating in the whole evening, mastering them perfectly not only from a technical point of view, but also expressively, making his performance even more of a unique experience. (…) Tomasi is the music he plays (…). Our eyes couldn't believe that they were watching such a young person, as it requires an experienced artist who has matured both technically and expressively, but in particular mentally to perform such a repertoire. Our well educated audience (…) appreciated as well – thanks to the never ending applause, Tomasi had to play an encore and honestly I admit that I wouldn't mind if the applause lasted until today." (Anna Weiss – "Moja Kultura")
Davide Giovanni Tomasi is considered one of the most promising soloist of his generation.
He has won more than twenty-five prizes in international competitions: among them, first prize at Tokyo International Guitar Competition, at Gargnano International Guitar Competition and at "Emilio Pujol" International Guitar Competition in Sassari, first prize and audience prize at Viseu International Guitar Competition (Portugal), first prize at Niksic International Guitar Competition (Montenegro), at Groznjan International Guitar Competition (Croatia), at Corrado Alba International Guitar Competition and at "Ferdinando Carulli" International Guitar Competition in Rome, first prize and audience prize at Claxica International Guitar Competition in Castel d'Aiano, first prize among all instruments at Premio Fondazione CRT in Ivrea, second prize (first prize not assigned) at Guitar Art International Competition in Belgrade and finally the National Prize Of Arts, awarded by the Italian Ministry of Education to the best musicians studying in Italy.
He is also the second prize winner of Guitar Masters 2016 (Wroclaw, Poland), one of the most important competitions worldwide, where only forty of the best young soloists at present were selected for the semifinal round out of the hundreds of applications sent from all over the world.
Furthermore, he has been invited to perform in prestigious venues, such as the Auditorium of Museo del Violino in Cremona, National Forum of Music in Wroclaw, Teatro Coccia in Novara, the Aula Magna of University "La Sapienza" in Rome, Teatro Verdi in Sassari, the Institute of Italian Culture in Paris, Gosser Ehrbar Saal in Vienna, Hakuju Hall in Tokyo, Kings Place in London, Klarisky Hall in Bratislava and many others.
Since 2016 he has been a D'Addario Artist.
Davide Giovanni Tomasi was born in 1991 in Pavia, Italy. He graduated cum laude from the conservatory in Novara with M° Guido Fichtner when he was only eighteen years old. Afterwards he was accepted at Chigiana Academy in Siena where he studied with M° Oscar Ghiglia and was awarded a Diploma Of Merit. At present he is attending masterclasses with M° Paolo Pegoraro and M° Adriano Del Sal at the Segovia Academy in Pordenone and a Master's Degree course with M° Paolo Pegoraro at Kunst Universitaet Graz.
In 2017 he will be performing in the principle European capitals – Rome, Paris, Bratislava and many others – and will be making a tour of about ten concerts all over Japan.
YouTube channel:
https://www.youtube.com/user/davidegiovannitomasi
Facebook:
https://www.facebook.com/davidegiovanni.tomasi
https://www.facebook.com/DavideGiovanniTomasi91/
Contacts:
davide.g.tomasi@gmail.com