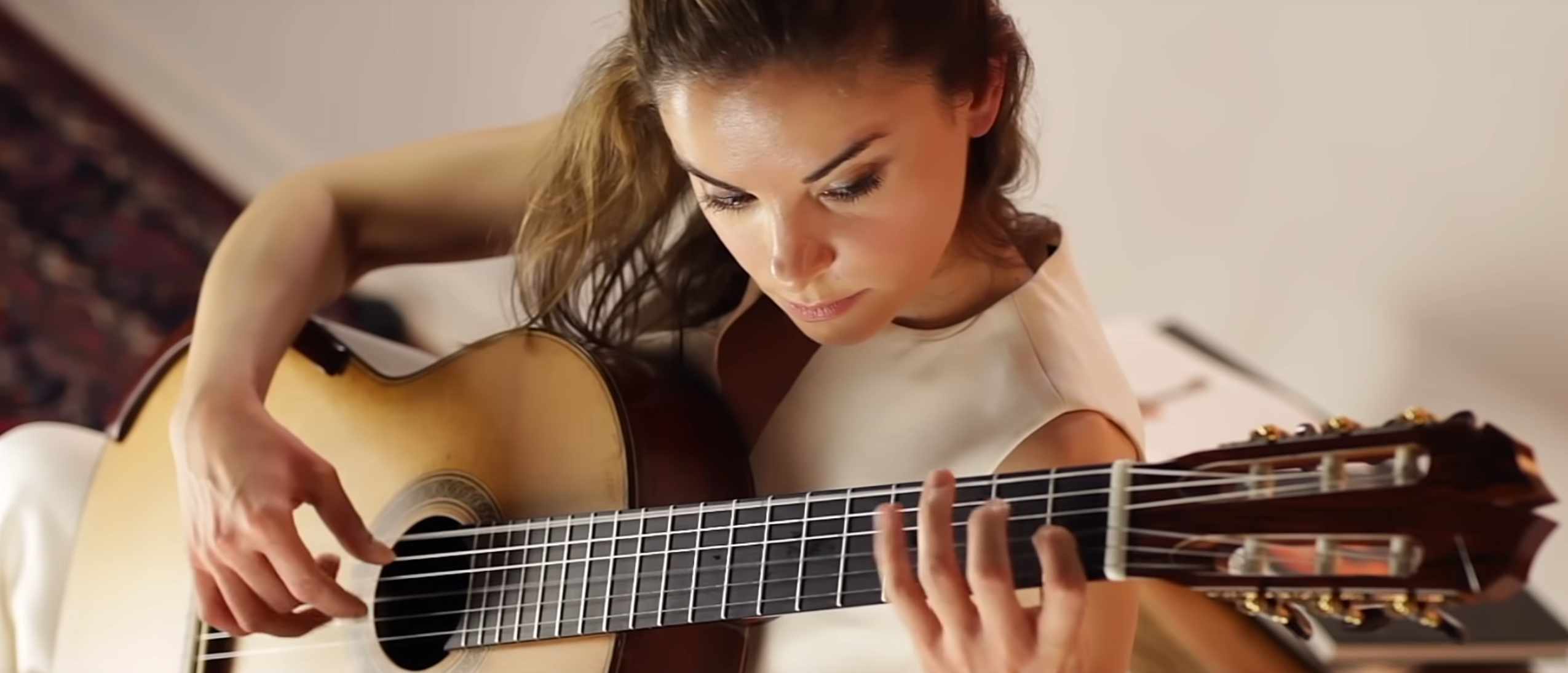 Ana Vidovic
Ana Vidovic is an exceptional talent with impressive gifts who takes her place among the elite musicians of today's world. She is known for her beautiful tone, precise technique, well-defined phrasing and thoughtful artistry and musicality.
Her international concert career includes frequent recitals, concert engagements and festival appearances in most European cultural destinations, including Amsterdam, Brussels, Budapest, Copenhagen, London, Oslo, Paris, Rome, Salzburg, Vienna, Warsaw and Zagreb. Their tours have also taken them to Australia, Brazil, Israel, Japan, Korea and Mexico. Equally impressive is the fact that she has recorded 6 CDs. Mel Bay Publications has released Ana Vidovic's DVD entitled "Guitar Artistry in Concert", a journey through the music of Torroba, Piazzolla and Pierre Bensusan, Sergio Assad, Stanley Myers, Villa-Lobos and Agustin Barrios Mangoré, and "Guitar Virtuoso", a performance of works by Bach, Torroba, Paganini and Walton,
During recent seasons, Ana Vidovic's prolific career has taken her to London, where she has performed twice at King's Place; Bordeaux and Paris, Carthage (Tunisia), Cuenca (Equador), Vienna Musikverein, Concertgebouw Amsterdam, Avezzano and Pescara (Italy), Aachen, Ansbach, Baden-Baden and Ettlingen (Germany), Japan, Sao Paulo (Brazil), Adelaide, Brisbane and Sydney (Australia), Hong Kong, Bulle (Switzerland), Uppsala (Sweden), Istanbul, Tel Aviv, in addition to the Canadian cities of Calgary, Edmonton Kitchener Toronto and Winnipeg she has performed throughout the U. S.A. S. at major performance venues in Austin, Baltimore, Bethesda (The Strathmore), Boston, Champaign, IL (Krannert Center), Cleveland, Dallas, Dayton, Ft. Worth, Houston, the Hawaiian Islands, Los Angeles, Milwaukee, Portland (OR), St. Louis, Salt Lake City, San Francisco, San Luis Obispo, Santa Fe, Seattle, Washington, DC and New York City, where Ms. Vidovic has performed in recital at the New York Guitar Seminar at Mannes College of Music, Baruch College, 92nd St. Y and Le Poisson Rouge. Her stunning concerto appearances have been with the Asheville Symphony, Bangor Symphony, Erie Philharmonic, Evansville Philharmonic, Glacier Symphony, Hartford Symphony, Idaho Falls Symphony, Illinois Philharmonic, Knoxville Symphony, Missoula Symphony, Rogue Valley Symphony (Oregon), Orchestra Iowa, Westmoreland Symphony (PA), West Virginia Symphony, Wheeling Symphony Wisconsin Chamber Orchestra; and with the Slovenian Orchestra and Zagreb Philharmonic. Festival appearances include Le Domaine Forget (Quebec), International Guitar Festival (London), Big Sky, Montana, Caramoor Festival (Katonah, NY), Colorado Music Festival and Lake Tahoe Summerfest.
Following engagements in Lichtenstein and Dubrovnik in the summer of 2019, Ana Vidovic's 2019-20 season includes performances at An Die Musik in Baltimore, MD as well as soloist with the Baltimore Chamber Orchestra, recitals in Jacksonville (FL), Los Angeles, Clarksville (TN), Philadelphia and Sedona (AZ), and abroad in Paris, Aachen and Bad Aibling (Germany).
Ana Vidovic has won an impressive number of prizes and international competitions, including first prizes at the Albert Augustine International Competition in Bath (England), the Fernando Sor Competition in Rome (Italy) and the Francisco Tarrega Competition in Benicasim (Spain). Other major prizes include the Eurovision Competition for Young Artists, the Mauro Giuliani Competition in Italy, the Printemps de la Guitare in Belgium and the Young Concert Artists International Auditions in New York. In Croatia, the guitarist has performed with the Croatian Radio and Television Symphony Orchestra and has also appeared in three television documentaries by the eminent Croatian film director Petar Krelja.
Ana Vidovic comes from the small town of Karlovac near Zagreb, Croatia, and started playing the guitar at the age of 5. At the age of 7 she performed in public for the first time, and by the age of 11 she was performing internationally. At 13, she became the youngest student to attend the prestigious National Academy of Music in Zagreb, where she studied with Professor Istvan Romer. Ms. Vidovic's reputation in Europe led to an invitation to study with Manuel Barrueco at the Peabody Conservatory, from which she graduated.
Sound recordings
Ana Vidović, Croatia Records, 1994
Ana Vidović – Gitara, Croatia Records, 1996
Guitar concerto, Naxos prize-winning series, 1998
The Croatian Prodigy, BGS, 1999
Ana Vidović Live!, Croatia Records, 2001
Federico Moreno Torroba Guitar Music Vol. 1, Naxos, 2007
Video recordings
Guitar art in concert, Mel Bay releases, 2009
Ana Vidovic – guitar virtuoso: a live performance and interview! Mel Bay Prod, 2006
Link: https://www.anavidovic